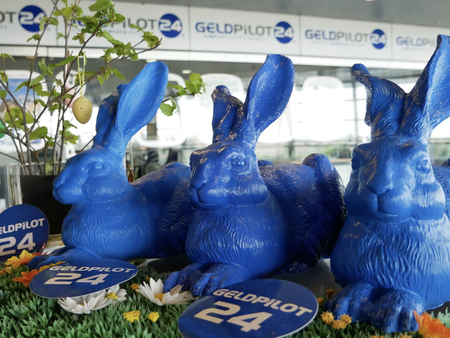 Get 500 € for Easter?
Advantages for GELDPILOT24 customers not only at Easter
14.04.2019
Before Easter, we had a look at the new customer campaigns of banks and insurance companies. AMAZON vouchers, raffles or currently again from banks up to 100 € starting credit. Sometimes we are surprised that there are still no folding chairs or drilling machines as with newspaper subscriptions.

There the advertised Finance + Insurance customer loses already times the substantial from the eyes. Which costs come to him. Often there are fees like expenditure surcharges with open funds plus the fund fees themselves the whole to a very expensive coupon make.
We have a big Easter present for you. At least the idea. For this we have to take a very brief look at the fees of classic bank+insurance distributors. Traditional financial product distributors, quite a few banks still charge customers for open-end funds up to an unbelievable 5% initial sales charge plus an annual sales fee of up to 2% and sometimes even more. Makes each 10,000 € deposit times evenly 500 € plus annual fund fees. Many customers are not conscious at all that the 500 € expenditure surcharge are subtracted before putting on from the deposit. Thus only 9,500 € flow instead of the felt 10,000 € into your selected funds.

By the way with fortune-forming insurance contracts such as unit-linked contracts such fees make over the running time fast times far over ten thousand euro out during the running time result. At the same time, there are still solid, large fund annuity providers who offer the same concept for 75 percent less costs. You only have to know which providers they are, where you don't have to pay huge fees.

Which solution, Easter present do we have this year for our GELDPILOT24 customers? The participating Storepartner will renounce up to 100% of the issue surcharges and will automatically refund the fund fees, as far as he receives them. Makes up to 500 € more for Easter gifts or more in your depot than with a depot per 10.000 € which can then also work better. Just contact one of our stores or send us a message and we will take care of it.

Psst, how do you earn your money if you do without a lot Quite simply, through a transparent, manageable annual fee (fee) which our store partner individually agrees with the customer. This means that our customer can exchange funds or buy new shares free of charge virtually indefinitely each year. Subscription fees then never accrue.
Back to list