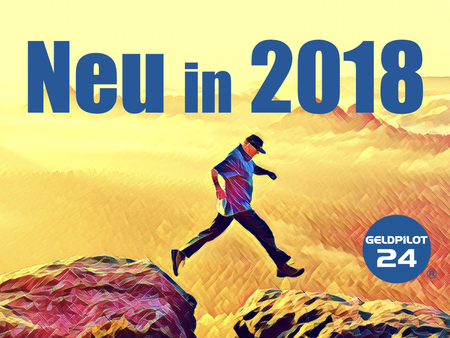 Much as it hasn't been for a long time - New 2018 in the financial sector
There are many changes waiting for you in 2018
06.01.2018
By the turn of the year 2018, changes came into effect that would bring more money into your pocket, create opportunities, change habits or pay for them. Our list does not guarantee the completeness, we recommend you as our customer / prospective customer in any case a status check of your financial + insurance situation to the new year.
1. statutory pensions increase
Statutory pensions are expected to rise by 3 percent from July 2018, and if they have not yet been paid, this could potentially lead to a tax liability.
2. employee contributions to the state pension decrease
Employees have to pay less. the contribution rate drops by 0.1%.
3. income thresholds for pensions, unemployment insurance, statutory health insurance+nursing care insurance increase
The limits increase, which can be linked to premium increases, depending on income. They rise by 1,200 € to 69,600 € (east) and 1,800 € to 78,000 € in the west.
The contribution assessment amount for the statutory health and nursing insurance increases by 900 € to 53,100 €.
4. the additional contributions from statutory health insurance companies are falling
The additional contributions are expected to fall by an average of 0.1%. However, this is only one incision and varies depending on the health insurance company.
5. child benefit, child allowances, basic allowances are improved, albeit only slightly
Child benefit per child increases by around €2 per month and child at the beginning of the year. The new, improved tax exemption for children amounts to € 7,428 per child from 2018 onwards, and the basic tax exemption increases to € 9,000 from 2018 onwards.
6. increased basic allowance for Riester pensions and for the first time Riester allowance for basic insurance
The annual basic bonus for Riester contracts increases again. It increases from 154 € per year to 175 €. For the first time since 2018, a tax-free allowance for the Riester pension has also been created.
If the situation arises of having to apply for a basic old-age pension, the basic pension will no longer be minimised for this new exemption from 2018.
7. company pensions are strengthened
Since 1 January 2018, the new Company Pensions Strengthening Act has been in force. It is intended to increase the possibilities and attractiveness of company pension schemes. That means shortened:
New support for low-income earners
Additional support for specialists and managers by increasing the maximum tax-free contribution
Additional employer's allowance by passing on the social security savings
Improvement in basic benefits
8. improvements in Rürup and basic pensions
From 2018 onwards, users of these contracts will be able to wager up to €23,712 (married persons up to €47,424). Tax deductibility increases from 84% to 86% in 2018. Up to 20,392 € (married women up to 40,784 €) are taxable in 2018.
9. new tax rules for investment funds
The real aim of the legislator is to simplify the rules and procedures. To this end, from 2018 onwards a lump-sum approach will be introduced for certain income (e. g. German dividends) for almost all fund types, including ETFs.
10. exemption from investment tax reform for Riester + Rürup contracts
The investment tax reform does not have any negative tax consequences for state-sponsored Riester + Rürup contracts (basic pensions). Nothing's changing around here.
11. investment tax reform for unit-linked annuities
Shown in abridged form: From 2018, investment funds will be subject to 15% tax on certain income (certain dividends, distributions). For the owners of unit-linked insurance contracts, a tax exemption is introduced as compensation. Income from unit-linked life/pension insurance policies amounting to 15% is tax-free if this income comes from the fund investment.
12. for all insurance intermediaries, new information obligations will apply as of 2018
From the end of February 2018, customers will receive even more information when taking out insurance. The agent must indicate, without being asked, in whose commission he is acting, whether he receives a fee, commission or other remuneration and who pays it.
13. New conduct of business obligations for insurance intermediaries
They have it in them. What should be a matter of course for insurance brokers will be difficult for tied agents from 2018 onwards. The best possible product must be offered to the customer. Commissions may not have any influence on certain product placements.
14. 500 € notes to be abolished
These will no longer be issued in the course of 2018. They do not lose their validity, but even today they are often not accepted by dealers. The Bundesbank will continue to exchange them.
15. there are no extra costs for credit cards
From 2018 onwards, online retailers are not permitted by law to use any special offers.
Various other changes often have advantages: For house builders, real estate buyers there are new protection regulations. From 2018 onwards, streaming services such as Netflix or Sky Go can also be used in other EU countries without additional costs. The Düsseldorf maintenance table was redesigned with pros and cons for the payers and recipients. The contributions for "low-value assets" such as laptops, smartphones and desks were almost doubled to 952 € including sales tax. These items can then be written off immediately for tax purposes. In the event of misuse of giro or credit cards, bank customers only have to pay a maximum of 50 €.
Conclusion on the changes in 2018:
Amazingly many positive things, many opportunities to use them. Perfect if you have an expert team (everyone in your area) at your side, with an overall view of the customer's situation.
Our list is purely journalistically researched, we would like to point out that legal and tax advice is excluded by us and we only cooperate with correspondingly licensed experts.
#GELDPILOT24 #SIMPLIFYyourfinances
#makeabetterworld #2018 #neuin2018 #riester #ruerup #basisrente #investmentsteuerreform
#betriebsrentenstärkungsgesetz
Back to list