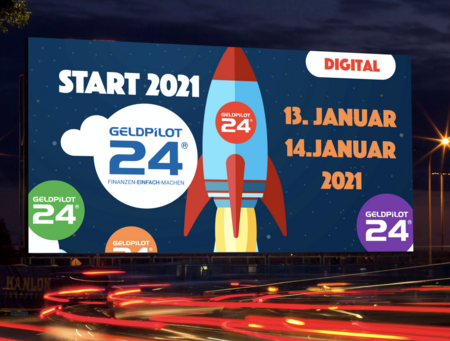 Conference #START2021digital
GELDPILOT24 launches 2021 with digital conference
18.12.2020
Well before the Corona pandemic, GELDPILOT24 was already fully digital. For example, WORLDRUNNER Robby Clemens used his GELDPILOT24 account during the 23,000 km expedition from the North Pole to the South Pole on foot.
The focus of our startup, which is also growing in the Corona pandemic, is solely how we can bring even more value to our customers. For this, the knowledge exchange of our expert network is especially important. Therefore, we will meet for two days at the digital conference START 2021 on January 13-14 with an impressive program to start successfully into the new year.
Via GELDPILOT24's video conferencing system, we will welcome companies from Allianz to ZURICH in the insurance sector. In the banking, building society and financing sector, experts will be digitally on site. And last but not least, in the area of open-ended investment funds, we will see fund managers and asset managers in talk on our digital stages.
The second day will see the launch of new digital eTools. Our GELDPILOT24 IT team will provide a behind-the-scenes look at the upcoming launches in Q1 2021, including the nationwide launch of completely redeveloped eStores for our partners, associations and influencers.
We are also officially launching the partnership with national player Josco Wilke at START 2021. Worldrunner Robby Clemens will be our exclusive guest and will talk about his projects for 2021. What the whole thing has to do with space, moon landing, and GELDPILOT24, Robby will exclusively reveal in January.
If you are interested in working with GELDPILOT24, want to learn about the career opportunity or just want more information, write us at start2021@geldpilot24.com.
Learn more
Back to list