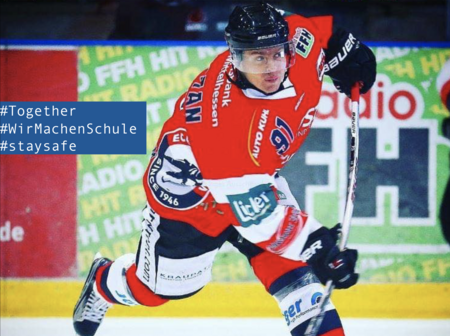 GELDPILOT24 continues #WemakeSchool
Virtual sports lessons with former ice hockey star
19.05.2020
Since the interest in the substitute teachers has been so great so far, we have decided to continue inviting exciting personalities to virtual school lessons during the first opening phase. Next Wednesday, 20 May, the children will be able to become active themselves for the first time from 3 pm. Radek Křestan and Matthias Ott will not only talk about the lives of the ice hockey stars during the substitution lesson, but will also insert a short sports lesson.
Radek is a coach for the youngsters at the traditional ice hockey club of the Rote Teufel Bad Nauheim. Today he teaches children from the age of 5 the basics of the fastest team sport in the world. Until 2 years ago, Radek played as a professional in the 2nd German Ice Hockey League. The former top scorer of this league grew up in the Czech Republic. At the age of 22 he decided to emigrate from the Czech Republic to Germany to play ice hockey in the highest German league, the DEL.
Matthias is not only a teacher, but as an athletics coach he prepares the young players of the Red Devils for the coming season. Because in summer the athletes build up their fitness for the time on the ice on the training ground and in the forest. In the past, Matthias has already trained the ice hockey professionals of Bad Nauheim for 7 years as an athletics coach and fitness coach.
Matthias will give the children an insight into the work as a fitness coach and will give a short sports lesson together with the children and show them some (child-oriented) exercises from the ice hockey training routine. The children should wear sports trousers for the exercises. Further equipment is not necessary. If you, your school class, team or club would like to participate in the virtual school lesson with Matthias Ott and Radek Křestan, please contact us directly here or write to us at: together@geldpilot24.com.
All events of the series #WemakeSchool are free of advertising. It is GELDPILOT24 a concern in the COVID 19 times to bring exciting personalities closer to the children despite school failure. GELDPILOT24 provides the virtual classrooms via HighEnd-Videostream and organises the events and #Representation Teachers.
Learn more
Back to list