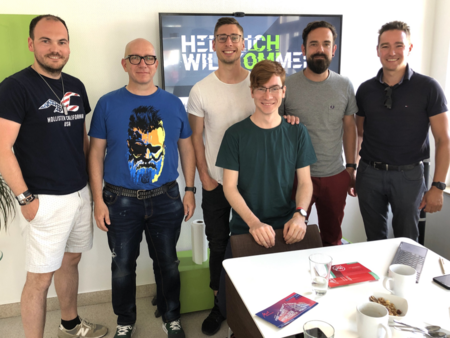 GELDPILOT24 goes to USA
Final meeting with the MUT makers
20.07.2019
In June and July the final meetings with the makers of the big MUT-Startup-Contest 2018 took place. GELDPILOT24 won the contest in November 2018. Now the implementation of the project USA starts. Our thanks to the makers of MUT, Mergin Minds from the USA, BASISLAGER-Leipzig and of course GECKO2.

Why start with GELDPILOT24 not only in Europe but also in the USA? During past stays in the USA we were surprised by the fact that the USA is the country of Netflix, Amazon, Google in the Insure area only minimally digitized. We will launch our innovative solutions there. As in Germany and currently in Austria, we are looking for partners. For Germany, Europe, Asia and the USA the following applies: Why should you have a multitude of apps, portals, access points on your smartphone or laptop if you only need one single service provider like GELDPILOT24?
In Germany we are already in the current phase extremely successful to build up a nationwide network of GELDPILOT24-Store-Partners. Alone in Lower Bavaria we start in these weeks the opening of half a dozen Stores. Similar to the FLIXBUS start-up, which just received €500 million in mobile revenues, we are focusing on successful, entrepreneurial partnerships. We provide the technological infrastructure and new service tools for our store partners. Integrating store support and new customers is part of the GELDPILOT24 store partners. Customers love our dual support, which on the one hand guarantees fully digital support and on the other hand makes personal contact possible if required.
Our implemented ideas save our store partners an enormous amount of time. It is precisely this success that we pass on locally. Participating store partners can become sponsors of regional associations and projects. Compared to Amazon-Smile, this can be interesting sums for the clubs. GELDPILOT24 customers decide digitally via click which clubs and projects come into question. Almost always regional associations and projects are selected, because often these associations look for sponsors. In Germany alone there are 36 million club members. In the USA the meaning of associations, sponsors and Fundraising is still much higher.
Summarized it is for US customers, agents, brokers, supporter and investors a huge chance to start the use of our innovations in the USA. In addition to technologies, we offer US clubs fully digital sponsoring models and thus benefit customers at the same time. This is the basis for great success. Especially since we believe there has to be only one ALLinOne solution for customers.
Learn more
Back to list