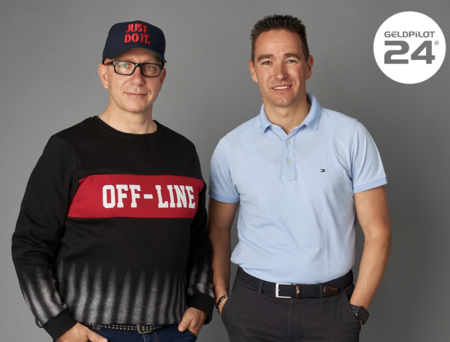 GELDPILOT24 launches numerous new eTools
Co-Founder Torsten Guenther and Marcus Jungnickel in conversation
05.06.2020
Marcus Jungnickel and Torsten Guenther are among the co-founders of GELDPILOT24. Both were conceived and started in Silicon Valley and had been managers in a sales organisation for over a decade. In the insurance sector, they only had the products of one company. As representatives of a single insurance company, they often reached their limits in terms of performance, price and concept to provide maximum benefit to the customer.
After a successful change as a very successful financial+insurance broker, they started GELDPILOT24 together with other co-founders. The platform is to combine the strengths of digital platforms such as Clark or Wefox with personal contacts in GELDPILOT24 stores and the virtual eStores.
GELDPILOT24's self-developed digital eTools facilitate consultation for store partners and customers. Every finance and insurance broker cooperating with GELDPILOT24 receives an individually adapted, modern homepage, an eStore, which customers can start with just a few clicks. With the digital eBoarding developed by GELDPILOT24, initial information, brokerage contract, data protection agreement, the commissioning of contract takeovers, contract information, creation of a customer portal are possible in almost real time from the start. White label is made possible for market participants from the financial+insurance industry.
As a first point of contact for customers and interested parties, the eStores offer the possibility to make direct contact and book a video appointment online in real time or to start immediately with eBoarding. With the new eChecks from GELDPILOT24, consultants and customers no longer have to deal with complex question and answer scenarios. Customers can check their health situation and necessary documents digitally via smartphone at any time and any place 24/7.
PILOTnet, the self-developed CRM system, and PILOTwiki, the internal knowledge network, form two essential building blocks for the digital work of the store partners. The PILOTnet realizes the fully digital cooperation with the customers. It starts with data collection, situation analysis or recording of the state of health as well as the professional situation and extends to contract management and contract acceptance. Communication via GELDPILOT24-eMessage is integrated in the new CRM, PILOTnet, which was developed in-house.
The PILOTwiki provides GELDPILOT24's store partners with an interactive knowledge network. Here the partners' know-how on all relevant topics is digitally bundled together with store partners. In addition, the knowledge of numerous experts from banks, insurance companies and other relevant segments is also available via the platform. This means that every GELDPILOT24 partner has 24/7 digital access to a large number of internal and external specialists for all matters.
In addition to the technological platform, GELDPILOT24 also offers the store partners support in active marketing. Instead of expensive television advertising, the makers of GELDPILOT24 favour a digital-social approach. They owe their success to their customers. Therefore, customers can decide for themselves which club or social project GELDPILOT24 should actively support as a sponsor.

Sponsored are clubs and cool social, regional and national projects such as Leipzig eSports, KINDERreich in Bayern e.V., HAUS Leben, MOGONO and many more. The condition is that the club is as enthusiastic about the cooperation as GELDPILOT24 is about the club.
GELDPILOT24 has been tested under the toughest conditions worldwide. No matter where the world runner and GELDPILOT24 ambassador Robby Clemens was, he successfully used GELDPILOT24 technologies such as the customer portal, eBoarding and eCheck on his 23,000 km route from the North Pole to the South Pole.
Learn more
Back to list