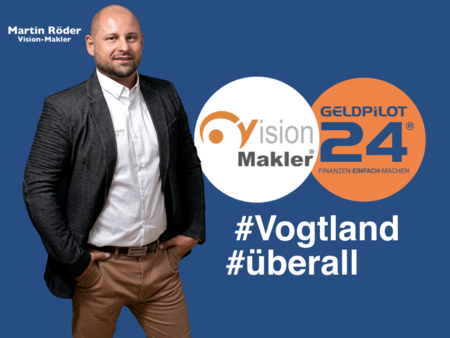 GELDPILOT24 and Vision-Makler start in Vogtland
Vision-Makler with CEO Martin Röder takes off digitally
14.10.2019
Now it's official. Together with Vision-Makler, led by top insurance broker and founder Martin Roeder, GELDPILOT24 now also starts in Vogtland.


After Bavaria, Hessen, Baden Württemberg, Berlin, Lower Saxony, Saxony, Upper Lusatia, Passau, Bavarian Forest, Plattling, Leipzig, Halle, Dresden, Donaueschingen, Munich..... Vision-Makler has brought the startup GELDPILOT24 to the Vogtland. Vision-Makler.de


Vision-Makler approached GELDPILOT24 at the beginning of September and since the beginning of October their customers have been enthusiastically using the new technologies. Martin Roeder and his vision broker partners enable their customers in the Vogtland and nationwide to use the new possibilities immediately.


In addition to the digital access to the data of all their existing contracts, all companies and the daily mail, there is another special feature for the Vision Broker customers. GELDPILOT24 and Vision- Makler become sponsors of local associations and projects. The Vision-Makler customers determine digitally which inspiring projects or associations are supported. Welcome Vision-Makler!
Back to list