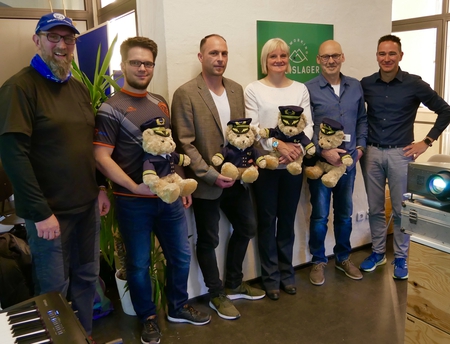 GELDPILOT24 supports HAUS LEBEN project
Robby Clemens, clubs, partner and world champion Annekatrin Thiele
17.05.2019
We want to give back a part of the success of GELDPILOT24 and support associations and projects that inspire us. Customers of our respective digital eStores decide with one click which club and which project should be sponsored. We have created GELDPILOT24 technologies that enable our store partners to save up to 90% time and effort in many areas. Our easy-to-use technologies are already inspiring many thousands of new customers in their everyday lives.


To the GELDPILOT24-Startup-Night of the clubs, in the BASISLAGER Leipzig, the highlight was the lecture of WORLDRUNNER Robby Clemens, our partner and international technology tester. Some of our first partner clubs like Leipzig-eSports, Haus LEBEN, Eintracht Niederröblingen were honoured. Stars of the evening were also world champion and Olympic champion Annekatrin Thiele and Leipzig's star pianist Anna-Maria Maak. Both are enthusiastic customers of GELDPILOT24. Important guests were of course also the fund managers, investors, financial insurance experts and successful GELDPILOT24-Store partners from all over Germany.


Together with our guests, the clubs and stars, we decided to support HAUS LEBEN, which is very close to our social heart. Robby Clemens, ambassador of HAUS LEBEN, received a countable donation in the evening. The partnership with HAUS LEBEN by Marcus Jungnickel and his team from the Store Leipzig-Markkleeberg will be further expanded. This year's Pink Shoe Day 2019 on 14 September on the subject of breast cancer will be a highlight of the young partnership and a lived social responsibility.
Learn more
Back to list