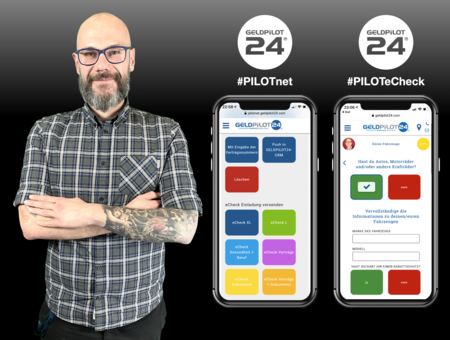 GELDPILOT24 with new PILOTnet and PILOTeCheck
Fully digital ecosystem for partner companies of GELDPILOT24
16.04.2020
Only a few weeks ago, despite all the digital demands, there were still GELDPILOT24 partners and customers who only used some of the possibilities of the new digital GELDPILOT24 Tech system. This has changed fundamentally since the changes brought about by Covid-19. We have noticed that customers of all age categories are now very consciously using our eTools - from eBoarding to digital eChecks to the GELDPILOT24 customer portal.
All eTools are networked with each other. Gone are the days when a financial+insurance broker would drive to the customer in the evening with health questions, situation analysis and brokerage contracts or meet in the office. And it will also be a while before personal appointments become everyday life.
Our video system allows appointments with customers and several experts at the same time. Personal now means video conferencing! After Covid-19, many customers will have noticed that digital is not magic. Long before the current situation, GELDPILOT24 developed an ecosystem for partners and their customers.

Almost all the work steps that were previously physically necessary for GELDPILOT24 partners have been digitalised in it. The input of customer data into the CRM, the recording of situations, risk surveys, but also the transfer of existing contracts of all companies are now running in such a way that it is once again a great pleasure to exercise one's profession as a modern finance and insurance broker.
Back to list