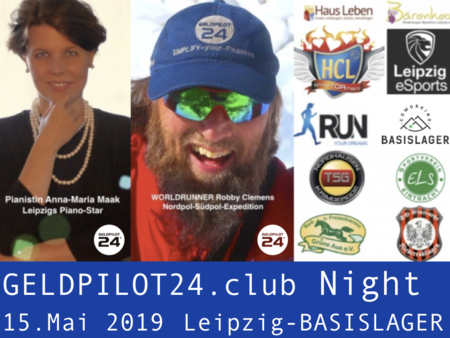 GELDPILOT24.club Startup-Night
Clubs, Stars and Business at BASISLAGER-Leipzig
03.05.2019
Leipzig the better Berlin? In the past, quotes about Leipzig from Europe to the USA were heard like this or similarly. GELDPILOT24 loves Berlin and Leipzig. As the headquarters for GELDPILOT24, we have chosen Leipzig as the city of many superlatives, in contrast to thousands of Fin+Insuretechs. So it is obvious that we will perform our GELDPILOT24.club Startup-Night in Leipzig on Wednesday, May 15th, 2019. Due to the massive savings in time and effort in our daily work, we have an attractive business model for partners and customers. With a part of the profits we support as sponsor associations and projects, which inspire and support us.


It will be an evening full of highlights. We have invited nine of our clubs and projects. With the pianist Anna-Maria Maak we could win another star for the opening. Robby Clemens "the german Forrest Gump" will report exclusively about his North Pole South Pole expedition. Stars of our evening are the clubs and our Startup-Store-Partners, who are guests nationwide from Lower Saxony to Berlin, Saxony, Baden-Württemberg and Bavaria. Similar to the Startup FLIXBUS, nothing would work without the local entrepreneurs. In addition, we invited startups, decision-makers from banks, insurance companies and funds from Europe and the USA.


There is another business delicacy in the GELDPILOT24-Prevent 16:45 to 17:30 also in the BASISLAGER. Our MONEY2019 talk on the topic of opportunities in the markets. Three of the best money experts will speak in the Stage Talk: Matthias Lippold, a graduate economist, Sven Stoll, a fund star, and Axel Krohne, Axel's Emerging Markets star fund manager from San Diego, California.
Back to list