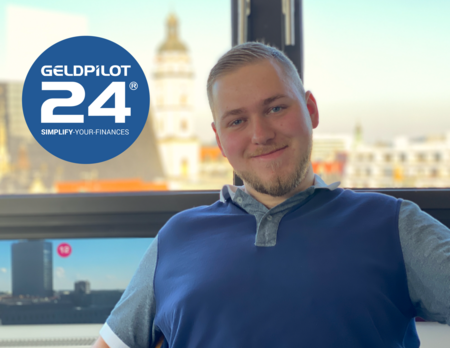 Job opportunities with GELDPILOT24
Further training and qualification as a financial+insurance broker
27.11.2020
The scaling of GeldPilot24 includes the support of new and existing partners for approvals, as well as training and further education. This is very important for career changers from other professions or young partners who start their training at GeldPilot24.
A current example is Jakob from Leipzig with his successful IHK examination as a specialist for real estate loan brokerage. Jakob started directly after a high school year in the USA and his successful Abitur at GELDPILOT24. Meanwhile he is a licensed Finanz+Versicherungsmakler and additionally studies business administration at the Martin-Luther-University in Halle. As further technical step with the IHK now in the spring the expert knowledge examination for the IHK financial plant specialist comes.
If a professional qualification is available, as is often the case with university graduates, insurance agents or bankers, we also accompany them to the admissions process and provide further training parallel to their professional activities. If the professional qualifications are not yet available, we accompany the suitable applicant free of charge to the necessary expertise and admission.
2021 GELDPILOT24 starts an education program, which has a fully digital basis as its core and is not only bound to single rigid seminars. Just as Jakob already had a purely digital learning basis for his two previous expert knowledge examinations and will be accompanied practically in his everyday work in the new GELDPILOT24 partner program.
Learn more
Back to list