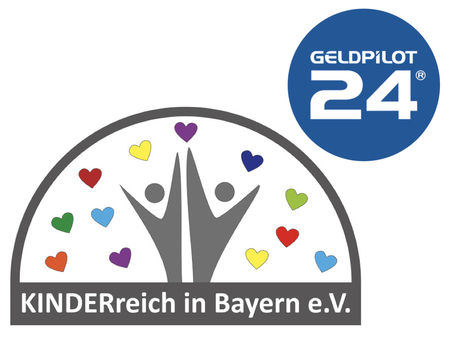 KINDERreich-in-Bayern e.V. and GELDPILOT24 launch partnership
Modern financial and insurance services for the association from Bavaria
18.03.2020
GELDPILOT24 and KINDERreich in Bayern e.V. - A co-operation for the advantage of the members and the association. From the foundation of the start-up it was clear that we do not want to put huge sums of money into TV or online advertising and instead support regional and also nationwide projects.


Jeannette Günther as an independent insurance broker and financial investment agent is a store partner at GELDPILOT24. She manages the cooperation between GELDPILOT 24 and the association and advises and supports our members online, by telephone, personally in the store or via video in insurance and financial matters. Jeannette herself is a mother of five children and has been a member of the association since its foundation. Therefore she knows the needs of families with several children very well.


As a financial+insurance broker she is independent and can filter out the best offer for your financial needs from the products of various companies. In addition, she has put together an exclusive package of benefits for members with lasting advantages in insurance premiums and discounts on investment or credit products. You can reach new eStore directly via www.GELDPILOT24-KINDERreich-in-Bayern.de.


Members those itself with GELDPILOT24-KINDERreich-in-Bayern registered association onboarden, receive:
Transparency over their financial contracts by the unification on a platform,
worldwide access to your financial contracts 24 hours / 7 days, up-to-date and simple,
the opportunity to optimize your insurance and other financial contracts with professional expertise while choosing from 600 financial and insurance companies
and the chance to save money in the form of permanent premium discounts, improvements in benefits or other privileges in the event of contract changes or new contracts

It also does good without additional costs because GELDPILOT24 supports the association from its own funds. All you need to do is to digitally onboard and the time of paper mountains comes to an end.


GELDPILOT24 is looking forward to long-term cooperation with the exciting association KINDERreich-in-Bayern e.V.
Learn more
Back to list