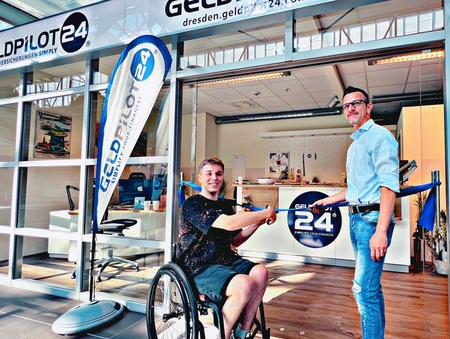 Moderner GELDPILOT24-Store im Flughafen Dresden eröffnet
Nationalspieler eröffnet als Stargast neues Angebot im Terminal
11.07.2022
Modern GELDPILOT24 store opens at Dresden Airport
National player opens new offer in the terminal as a star guest

On July 2, the time had come. A hybrid store of GELDPILOT24 opened in the impressive terminal of Dresden Airport. Together with many guests, national player Josco Wilke officially launched the store with his symbolic scissor cut.

The store is operated by GELDPILOT24 CDO Patrick Hildebrand von Goeckel. This was before many years in responsible position with the DEBEKA employed. There it felt borders its customer optimal use to bring. Limits, that are in exclusivities often the restriction to a few companies. However, if one does not have access to the entire market, it is difficult to keep up with customer offers compared to modern and independent platforms.

The GELDPILOT24 store at Dresden Airport is probably one of the most beautiful places for financial and insurance service providers to work. In the bright, glass terminal of a historic aircraft hangar, it is particularly easy to see how radically the future is changing for insurance companies, banks and financial service providers.

In the spring, Patrick Hildebrand von Goeckel successfully applied to Geldpilot24 as CDO for his home region of Dresden. Before selecting GELDPILOT24, he also looked at various distributors or broker pools. He then came across GELDPILOT24, found out about the concept in detail, held talks and tested it. From this he quickly knew that it was exactly what he was looking for.

He applied without further ado and, after receiving an acceptance, first started an eStore online with dresden.geldpilot24.com. Through the new GELDPILOT24 store, customers and many employees in and around the Dresden Airport terminal now have a state-of-the-art financial+insurance service provider on site.

Patrick Hildebrand from Goeckel was particularly impressed by the hybrid support for his future and current customers. For the most part, customers like to be supported not only online/digitally, but also in person (if needed). This so-called "hybrid support" is standard at GELDPILOT24. Many of his former customers found out about his new professional start as a modern finance+insurance broker in Dresden via Google search on his online eStore dresden.geldpilot24.com. Thus they could inform themselves on-line, without participation of Patrick, and decide themselves perhaps again customer of Patrick to become. That functions with GELDPILOT24 revolutionary easy. With one click and under 2 minutes expenditure our new customers settle that 24/7, all the same where they are themselves. Or sometimes also in the context of a coffee discussion in the airport store. After the so-called eBoarding our customers receive a full online overview of all their insurances, financing, building society contracts free of charge via their GELDPILOT24 account. It does not matter which insurance company. The current post office and documents receive the customers then also on-line, daily updated into their account. There one experiences also where via traffic light colors where possibly "the shoe presses", contracts are missing, contracts are too expensive, one finds its emergency documents on-line, vouchers for insurance cases, Messenger to the eStore, digital notice of loss and can also data such as addresses, account numbers fast and simply change.


Are you currently a financial advisor*, banker*, insurance agent*, modern finance/insurance broker, business administration/IT/business student in the Dresden region? Apply for our new GELDPILOT24 team in Dresden. Send your application or questions to dresden.airport@geldpilot24.com.