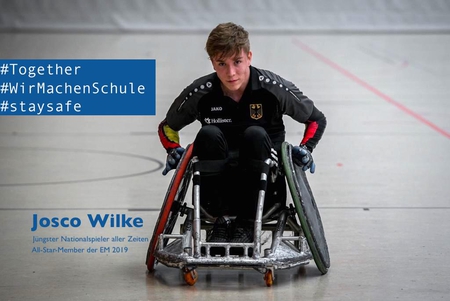 National player as "substitute teacher" for #WeMakeSchool
Josco Wilke, the youngest national player of all times with world premiere
04.04.2020
As part of our technological capabilities, the GELDPILOT24 team supports pupils and parents throughout Germany with virtual classrooms. It is a great pleasure for us to see how especially the pupils accept these classrooms. If you are interested in using such a virtual classroom with your class free of charge, simply write to us at: together@geldpilot24.com. We support the parents and teachers personally and free of charge with the introduction and start.

Next Thursday, April 9th, we will start another substitution lesson, with which we want to bring color into the life of the students. This time again there will be a very special highlight and a world premiere! Josco Wilke, the youngest national player ever in wheelchair rugby, will talk about his life, his motivation, his successes and also his lows. The special feature is that Josco Wilke was not always a wheelchair user. Just a few years ago he led a different, "normal" life. We thank Josco already now for this joint world premiere.

#WeMakeSchool for students, parents and teachers. In doing so, we bring a splash of colour into virtual lessons with the organisation SPECIAL substitute teachers! They take pupils, teachers and often parents, siblings and even grandparents on a "school trip" into their own world. Involved are for example prominent sportsmen, coaches, scientists from all over the world, stars, artists, pilots.........
The next #representative teacher is already in the starting blocks again: A special football coach who knows the stars and trained them. Details in one week. #WeMakeSchool.
Learn more
Back to list