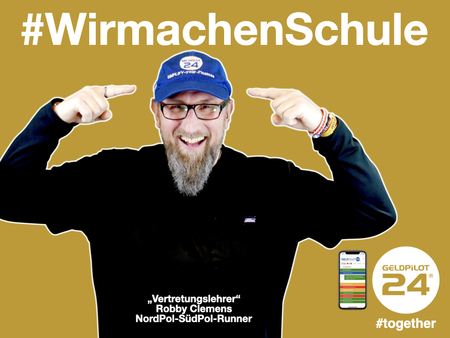 Project "We make school" has started
"Substitute teacher" Robby Clemens brings students from the North Pole to the South Pole
02.04.2020
For more than two weeks now, we have been providing virtual classrooms to students, parents and teachers. We are supporting the launch and providing the technical basis for virtual teaching.


Today we start another aid project #WirMachenSchule for pupils, parents and teachers. With the organisation SPECIAL substitute teachers we bring a splash of colour into virtual lessons! They take students, teachers and often parents, siblings and even grandparents on a "school trip" into their own world. Involved are for example prominent sportsmen, coaches, scientists from all over the world, stars, artists, pilots.........


Together with seven school classes from Hessen and Saxony we started today. WORLDRUNNER Robby Clemens took the pupils for a school lesson on his expedition "From the North Pole to the South Pole on foot".

Initial feedback from pupils, parents and teachers makes us as GELDPILOT24 teams very happy:
"It was a really exciting presentation. Jonas was very enthusiastic" "Impressive story about Robby ... the substitute teacher was a great idea". Teres and Jette: "We really, really enjoyed it and it was really interesting". One teacher wrote: "It was very entertaining and interesting! Strong guy but nice!".


The next #Representation teacher is already at the start: Josco Wilke, young star and national player for the German wheelchair rugby national team. Josco was not always a wheelchair user and until his illness he was a "normal" student. In his first lesson as a #Representation teacher in the #WirMachenSchule project, Josco explains how he managed this change of life so impressively and how his happy life path looks today.


If you also want a cool substitute teacher with your class or a free virtual classroom then write to us or to together@geldpilot24.com.
Learn more
Back to list