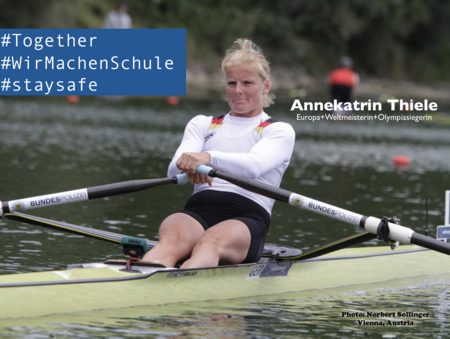 Rowing star Annekatrin Thiele as substitute teacher
Virtual school lesson with Europe/World+Olympics winner
17.04.2020
The demand from school classes in the Covid 19 times from all over Germany is so great that even during the holidays a school lesson of our project #WemakeSchool took place. In the last few weeks, several substitution lessons started, among others with the world runner Robby Clemens, the unique national player Josco Wolke and the DFB youth national coach legend Frank Engel.
After three "gentlemen", it was time for a teacher. And we succeeded. And what a teacher. Annekatrin Thiele, multiple European champion, world champion and Olympic rowing champion, has promised us to give a substitute lesson for the students. Seven first places in the most important competitions on our planet alone are a legend.
What is the path of life that leads to such successes?
Were there also lows and defeats for Annekatrin Thiele? How do you motivate yourself in difficult situations?
What about competition in top-class sport? Are the gold medals real?
How long does a top athlete have to train for each week?
We are already excited and look forward to bringing a little color back into the everyday life of our virtual classes. The virtual school classes, which are privately organised by parents, students and GELDPILOT24 (free of charge and advertising), enable students to have daily contact and video lessons.
If you, your school class, team or club would like to take part in the virtual school lesson with sports star Annekatrin Thiele, please write to us at together@geldpilot24.com
2004: 2nd place U23 World Championships in doubles
2005: 2nd place U23 world championships in double fours
2008: 2nd place Olympic Games in double doubles (silver medal)
2009: 3rd place world championships in double fours
2010: 1st place European Championships in double doubles
2011: 6th place world championships in the singles
2012: 2nd place Olympic Games in double-four (silver medal)
2013: 1st place European Championships in double-four
2013: 1st place world championships in double fours
2014: 1st place world championships in double fours
2015: 1st place European Championships in double-four
2015: 2nd place world championships in double fours
2016: 1st place European Championships in double-four
2016: 1st place Olympic Games in double-four (gold medal)
2017: 3rd place European Championships in singles
Quelle Wikipedia April 2020, Foto Norbert Sollinger
Learn more
Back to list